About Me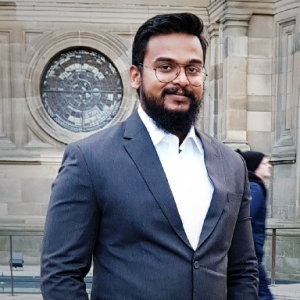 I've been interested in sound and music since a young age, and it was important for me to understand the core principles and the science behind it. It was during my bachelors (B.Tech) in Instrumentation and Control Engineering at National Institute of Technology, Tiruchirappalli that I realized that a large part of what I was learning (sensors, transducers and control systems) had such a huge role in the field that I wanted to explore. Following the completion of my B.Tech in 2013, I started working as an ELV engineer for Atlal Al Qurum Trading and Contracting L.L.C. where I got to be involved in projects which revolved around audio systems and decided to specialize in this field.
After getting accepted for the MSc in Acoustics and Music Technology program at The University of Edinburgh, I got to explore and understand the field in detail and decided to focus on Room Acoustics and 3D audio. For the final project for my MSc program titled "A Comparative Study of Spatial Decoding Methods for Binaural Renderings in 3D Audio" I used binaural recording, ambisonic recording and microphone arrays to measure and process room impulses with all the spatial information (including the with-height information, called periphony) and then rendered the multi track audio into binaural audio using a virtual speaker system that was measured in an anechoic chamber. A listening test was done to test the similarities of the spatial decoding techniques to actual binaural recordings. I also got to be one of the few people in the field to have 3D printed a dummy head for binaural recordings. The thesis was later published at Euronoise-2018 with the same title with my professors and project guides Mr. Michael Newton and Mr. Brian Hamilton as co-authors.
After my masters, I decided to return to Muscat, Oman to start my own Acoustics division in Atlal Al Qurum Trading and Contracting L.L.C. and to carry out acoustics related work in Oman. I got accepted as an Associate Member (AMIOA) at the Institute of Acoustics (IOA) in January-2018, giving me access to the latest updates and resources related to acoustics. My journey continues in exploring the field further by practice and providing innovative solutions in building and room acoustics, making rooms sound better, one room at a time.