Products and Solutions
It is in our best interest that the products we propose to our clients are the most cost effective and long lasting solution for the project. Every project is different and the solutions might be a combination of products to ensure that we achieve the results that we're aiming for. We have partnered with a few brands around the world, which provide products that align perfectly well with the sort of solutions we do.
We work directly with these brands and their direct distributors and we receive all their support for the solutions we propose! We study the issue faced by a certain client and design the necessary solutions incorporating the products we carry. In certain cases, the manufacturer assists us in designing the solutions as well.
All our solutions come with pre-installation and post completion testing with Class-1 instruments and scientific testing methods. Our usual process can be seen below.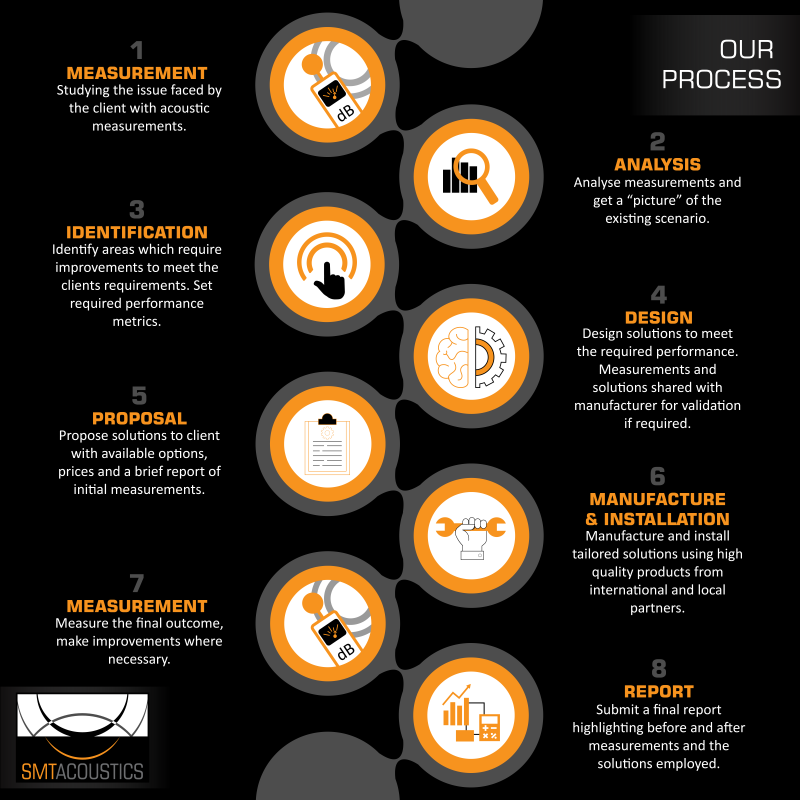 Contact Us for a free quote today! Let us design the perfect acoustical environment for you.
We offer a range of solutions for,
Acoustic Treatment
Acoustic treatment basically constitutes solutions to controlling the sound inside your space. This includes issues related to speech intelligibility or clarity, high reverberation times (commonly described as echo) etc. Your acoustics inside your space is controlled by the finishes of your room. We have a range of options specifically for this.
Vibration Isolation and Soundproofing
We have partnered with Alpha Acoustiki from Greece for their vibration isolation products Vibro. We have their complete range of products for vibration isolation and soundproofing!
Industrial Noise Reduction Solutions
We have partnered with Decibel International for industrial noise reduction solutions. We get direct manufacturer design and support to meet the end requirement of the client!
Soundproofing Doors
We can supply doors for specialized applications where high soundproofing performance is required (i.e. Rw higher than 40dB). We can get these doors prefabricated to ensure proper seal and function.
Contact us to learn more!